One of the topics that overseas visitors talk about Japan with a twinkle in their eyes is the "Shinkansen", which has overwhelming popularity overseas as the Bullet Train.
How do you say and write 'Shinkansen' in Japanese?
Shinkansen.
しんかんせん(hiragana characters)。新幹線(Kanji characters)。
Let's head to Kotsu-kaikan
If you like to see such a majestic Shinkansen and/or if you want to take a good photo of Shinkansen, Kotsu-kaikan in front of Yurakucho-station is the place to be.
There are antenna shops (Outlets that sell regional foods and products, often established by the prefectural governments or local organizations aimed at promoting local specialties and tourism), standing bars, traditional Japanese sweet shops, Sanseido bookstores, wine schools, etc., it is quite a unique place. There is also a "street piano" on the first basement floor. It is also a key point for underground passages, and is connected to Ginza, Marunouchi, Hibiya, and Tokyo, making it a convenient point to reach. There is also a passport center for Tokyo residents. Most of Tokyo residents are quite familiar with Kotsu-Kaikan.
Roof top garden "Yurakucho Colline" is ideal spot for Shinkansen viewers
When you go up to the 3rd floor of the Kotsu Kaikan and open the door with the sign of "Yurakucho Colline", Yurakucho Station is right in front of you. You can clearly hear the platform announcements, and the rooftop garden offers a panoramic view of various trains coming and going from left to right. Colline means "hill" in French. You will find a relaxing space with a terrace.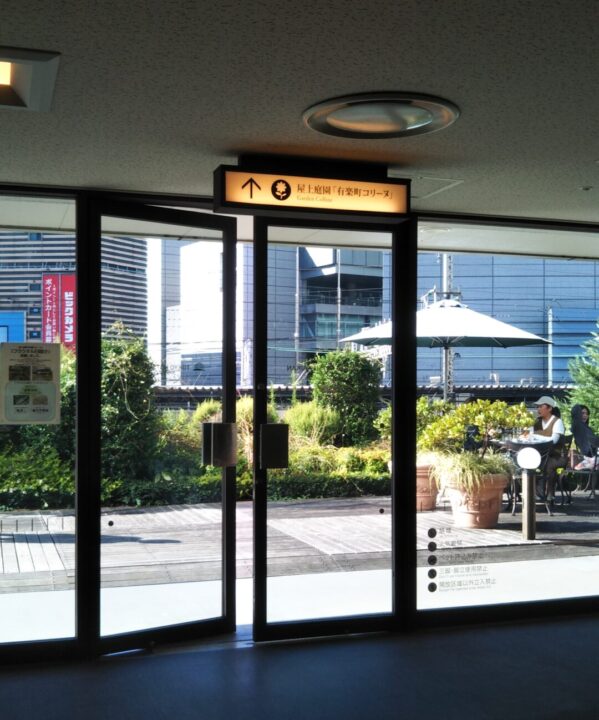 Shinkansen photo spot
This spot, as expected of the Shinkansen is not in a bullet speed, so naturally you can take good pictures! The Shinkansen heading for Tokyo Station is in final approach, slowing down its speed. On the other hand, the Shinkansen that departed from Tokyo Station is full of acceleration. You will enjoy mixture of the Shinkansen passes through and conventional lines such as the Yamanote line, Keihin Tohoku line are passing through. It's a masterpiece view spot. You never get tired of it.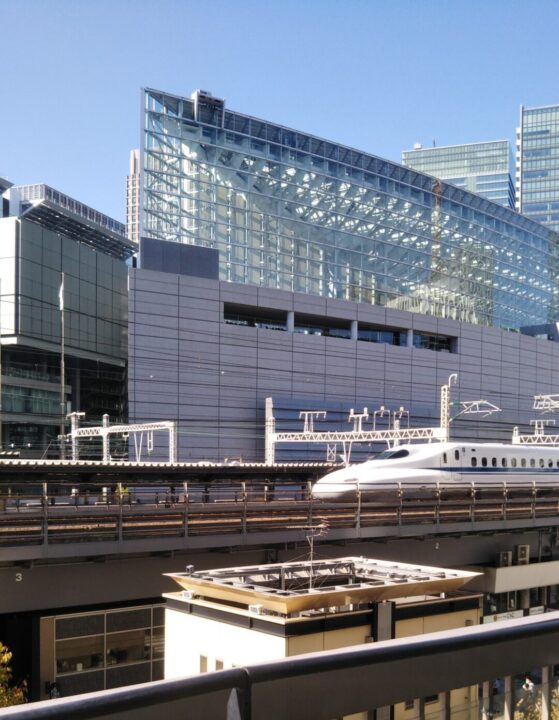 In the background of the photo, the leaf-like "Tokyo International Forum" glass building, which is built along the curve of the Yamanote Line, is reflected.
It is recommended that you purchase an ice cream at Dosanko Plaza (Hokkaido specialty shop)on the first floor and enjoy the train view while eating it. There is no doubt that you will be able to understand the wonders of the Japanese railway system and the appeal of the Shinkansen.
Stay tuned for more updates of Japan. See you soon!